Skewer machine
Semi-automatic
Welcome to our page dedicated to the sale of professional skewer machines! We are proud to offer you high-quality equipment for your skewers preparation needs.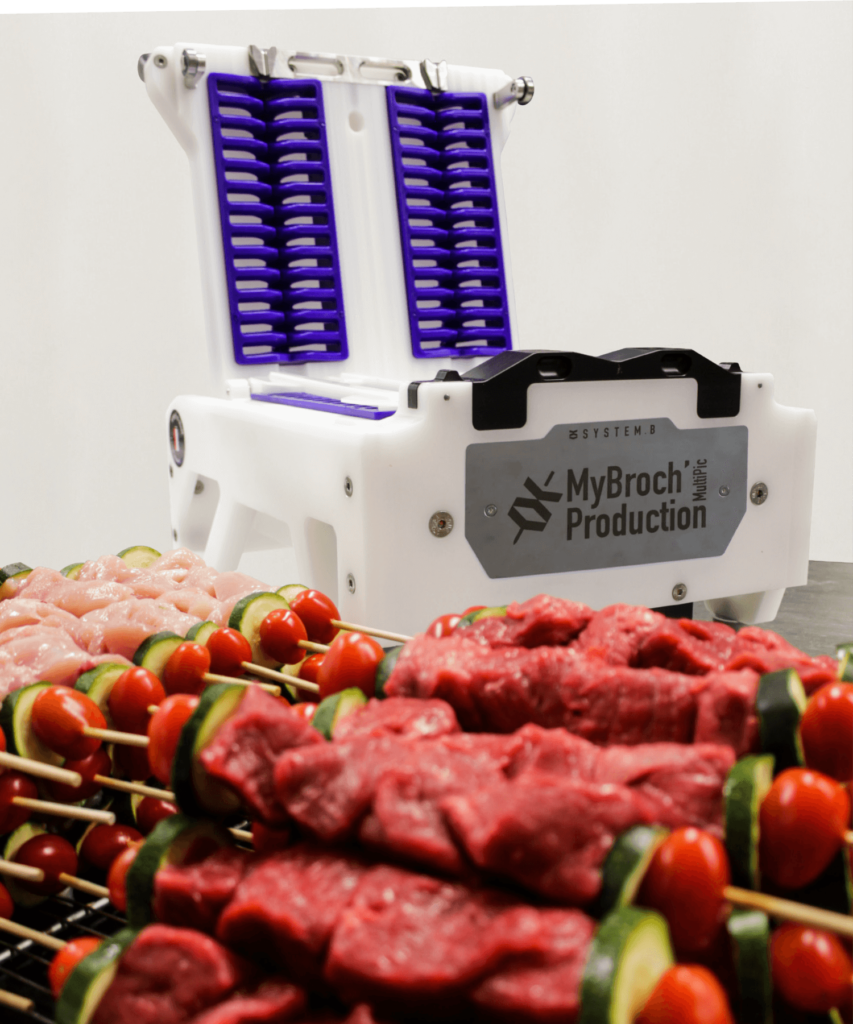 Semi-automatic
skewer machine
for professionals
Our skewer machine is designed to meet the needs of professional caterers, butchers and caterer. It is made from robust materials to ensure long-lasting use, but also to be easily transported. Our skewer machine is easy to use and can be adapted to any recipe, whether meat (pork, beef, chicken…), fish, fruit or vegetable-based skewers. With the MyBroch' Production Multipic skewer machine, you'll be three times faster than by hand.
We've created a semi-automatic skewer machine to meet the needs of all types of butchery and catering establishments, with a capacity of several kilos per hour.
Our skewers are equipped with safety devices and an automatic skewer dispenser to ensure safe and efficient use. We're confident you'll find our skewer machine ideal for your specific needs.
How the
skewer machine works
Operation of the semi-automatic skewer machine
is relatively simple in just 4 steps
Insert your skewers into the trays and adjust the wedges to the size of your skewers. Depending on your requirements, fit the appropriate skewer guides and skewer head module, choose the right elastomer and the appropriate modules for your recipe, the module will enable you to align your ingredients correctly so that they are well centered on the skewers and allow uniform presentation.
The user places the ingredients on the elastomers, alternating the different elements (meat, vegetables, etc.) to obtain a presentation in line with the desired recipe.
Then, close the top of the unit and push the mechanism to see the skewers rise, with their automatic mechanism and securing device to hold the skewers in place. Once the skewers are up, bring the machine block towards you using the two black grips on the top of the unit.
You can then reopen the top of the machine, the skewers are skewered and perfectly formed with the desired recipe.
What's more, the semi-automatic skewer machine saves time and labor.
Up to 200 skewers in skewer bins

Production of over 55 kg/hour

Easy to transport

Suitable for all recipes

Automatic dispenser for sticks.

Works with wood and bamboo skewers of all sizes
If you're looking for the best professional skewer, MyBroch' Production Multipic is the ideal solution for you. Don't hesitate to contact us for more information or to place an order. We're here to help you succeed in your catering business.
Book an appointment for a test in your laboratory